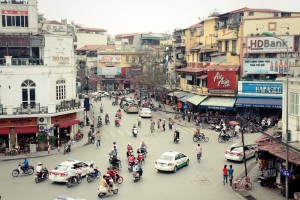 Hanoi was founded over 1,000 years ago and is the oldest surviving capital of Southeast Asia. It has its own unique charm, combining the old and modern Vietnam in a unique way. Hanoi is undoubtedly not only the cultural but also the political centre of the country, due to its proximity to Government agencies, key local decision-makers and international diplomatic missions.
Office-Address:
Viet Diligence Legal (Vietnam) Ltd.
Suite 403, 4th Floor, Ocean Park Building
01 Dao Duy Anh Street, Dong Da District
Hanoi, Vietnam
Tel.: +84 (24) 7 300 0094
Mobile: +84 379483357
Office hours and directions:
Monday to Friday, 8.30 am to 5.30 pm. To avoid waiting times in the office, please make an appointment by phone or contact form. The firm is located in the well-known Ocean Park Building in the Dong Da District of Hanoi, No. 1 Dao Duy Anh Street (4th floor), very close to the Vietnam Chamber of Commerce and Industry (VCCI).