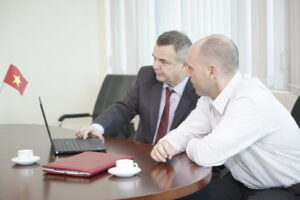 We add value through hands-on and commercially viable legal solutions that help you achieve your business objectives in Vietnam. We combine local expertise in Vietnam with  international experience, allowing us to advise you on all cross-border aspects of Vietnam-related legal matters.
Our five guiding principles:
You have priority: we will respond to each of your inquiries within 24 hours and within this timeframe give you either an assessment or a proposal for an appointment.
We understand your business: Only a real understanding of your business goals enables us to provide you with optimal legal solutions. We therefore take sufficient time to understand your business model and commercial issues.
We render practical advice: We only propose to you what we consider to be the best practical solution to your legal issue in Vietnam. In doing so, we give not only provide you with several options but always gibe you a certain proposal for action.
We are quality-focused: We combine our practice-oriented approach with the highest standards of quality in our advice. Each proposal is legally based, takes practice and precedent into account and is worded in a plain and simple English (no lawyers' English).
We offer value for money: Our fees are clearly structured, transparent and competitive. Hourly rates range from $120 to $300/hour, depending on the seniority of our attorneys.